I haven't talked too much about K-beauty on here (or maybe ever? Don't quote me on it) but I LOVE it. I'm constantly trying out new products and I have a stash of masks big enough to carry me through the apocalypse. These, however, are my personal favorites. I've been using them for some time and I'm ready and willing to buy them again. So, without further ado, here are my holy grail K-beauty products!
Skin Care
I'm very particular about my toners. I used to use Clean & Clear but it started to dry out my face. I tried all-natural toners like Dickinson's Witch Hazel (which is still a great product) but they weren't doing enough for my skin. So after years of searching, I stumbled into Nature Republic in Manhattan. The shop girl listened to me gripe about how I wanted a toner that was effective without being drying and pointed me in the direction of this toner. I've been using it for five months now and I love it. It's the perfect balance between traditional astringent and prepping toner, and I highly recommend it for combination skin.
This was another kind of random discovery that I made. I was searching for something moisturizing for my lips because I have such an issue with dry lips. I was scrolling through the pages and pages of stuff that YesStyle has for K-beauty and I found the LANEIGE Lip Sleeping Mask. It was really well rated and it had tons of positive reviews, so I figured the worst that could happen was that I spent $18 on a pretty decent lip balm. But no. It is a dream. I could go to bed with my lips cracked and brittle and wake up with a perfectly smooth surface to put lipstick on.
3. Dr. Jart+ Water Drop Hydrating Moisturizer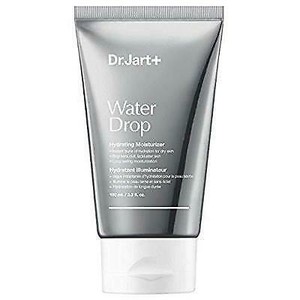 It seems the more that I write this post the more I realize just how many of my skincare products I happen to stumble upon. This time, I was in Sephora looking for a new moisturizer since my last one had run out and had left me unimpressed. I wandered along the K-beauty aisles and picked up a few Dr. Jart+ ones that seemed interesting. Ultimately, I settled on this one because it seemed the most promising. Thankfully, I chose well! It's not oily or heavy, and it moisturizes well. Even my wife uses it and, even though it's a little pricier, it lasts quite a while.
Make-Up
4. Holika Holika Water Drop Tint Bomb – #08 Fig
I'm not a big tint person because they tend to look too bright on my lips, but this was the perfect texture and color. It feels like you're swiping on a cooling stick. It's fresh and light, but the color is very pigmented. My only complaint–which isn't really a complaint–is that it doesn't have any moisturizing components so if you want something that's going to give you more a plumped feeling, you'll want to put on chapstick or lip balm on top.
5. Innisfree Aqua Fit Cushion Foundation
Innisfree is one of the few Korean beauty brands that has actually made products for darker skinned people! And it's actually a great product. I'm the kind of person that doesn't really like foundation or any kind of heavy coverage, and the beautiful thing about the Innisfree cushion is that it is completely customizable. That meant that I was able to pick out the cushion that provided the lightest coverage, my exact shade, and a cute case too. Totaling out, it was about $26 but refills are only $12, so it's worth the investment.
Final Thoughts
K-beauty is always expanding and there are so many cool products I still have yet to try. So if none of these work for you, don't be discouraged! There are still so many others out there. I'll try to keep you guys updated for ones that are worth your time. Let me know what you guys think of these in the comments!
Credit to Allure for featured image