In celebration of Asian Pacific American Heritage Month, I wanted to do something a little different. I'm a huge reader (I work in a library so I always have a book on hand) and I've been making a conscious effort this year to read more non-white non-male authors in addition to reading more immigrant narratives. As a result, I've been exposed to so many incredible authors and I thought I would share some of my favorite reads by Asian American authors.
Family Trust – Kathy Wang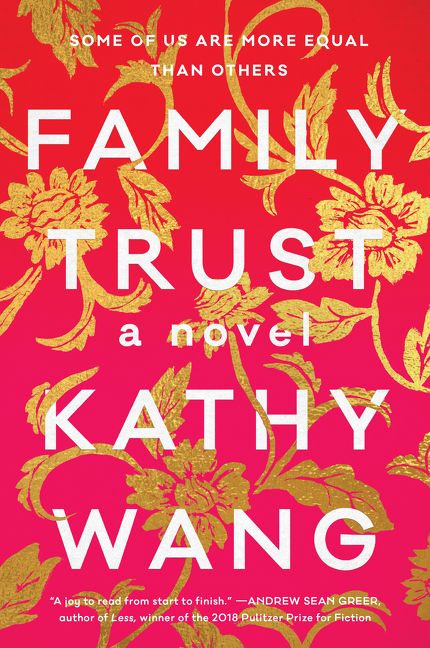 I finished this book fairly recently and it was incredible. I couldn't put it down. I saw a blurb on the back cover that described it as a mix of Arrested Development and Crazy Rich Asians and that's pretty accurate. It follows the Huangs, who are all trying to deal with the impending death of their father, Stanley. There's Linda, Stanley's ex-wife, and his two children, Fred and Kate, as well as his new wife, Mary. Each of them have such a unique and entertaining perspective that makes their situation seem almost comical.
The Night Tiger – Yangsze Choo
This was one of the first that I read this year and I loved it. It's a mix of historical fiction with elements of magical realism and it switches perspectives in such a riveting way. I can't do this book justice with my own description so I'll just let Google do it for me:
Quick-witted, ambitious Ji Lin is stuck as an apprentice dressmaker, moonlighting as a dancehall girl to help pay off her mother's Mahjong debts. But when one of her dance partners accidentally leaves behind a gruesome souvenir, Ji Lin plunges into a dark adventure: a mirror world of secrets and superstitions.
The Island of Sea Women – Lisa See
Lisa See actually has Chinese ancestry in her blood and all of her other novels touch on different eras of Chinese history, but this book is set in South Korea. It's a historical piece that tells the story of the haenyeo, the female divers of Jeju Island. It touches on some serious and disturbing historical events that can make it a little difficult for more sensitive readers, but it's raw and real and I appreciated the look into an event that, for a long time, the Korean government tried to pretend never happened.
Pachinko – Min Jin Lee
I LOVE Min Jin Lee. She's such an incredible author and I was really fortunate to stumble upon a signed copy of this book at a local bookstore and immediately scooped it up. Pachinko is also a historical novel and it deals with a family as they struggle with Japanese rule. The main character, Sunja, undergoes so many difficult trials throughout the book as the Korean people deal with racism, lack of jobs, lack of food, and a million other injustices at the hands of the Japanese government. It's a hard read but it's an important one.
Free Food for Millionaires – Min Jin Lee
After reading Pachinko, I went in search of Min Jin Lee's debut novel, Free Food for Millionaires. This is such a wild change from her subsequent novel that I almost didn't even recognize it as the same author. Free Food for Millionaires takes place in the 90s in New York and it follows Casey, a Korean American woman who wants to be a part of upper-class society in spite of the fact that her family comes from humble roots. She's a difficult character to love, but I think that's what makes her story all the more compelling and it's very rewarding to see her development throughout the novel.
Girl in Translation – Jean Kwok
I can't say I enjoyed the ending of this book, but maybe that's just because I don't believe in tidy endings, but the rest of this is incredible. It follows a girl and her mother, who are recent immigrants to New York thanks to help from their relative. Unfortunately, they end up in a difficult situation, living in a condemned apartment building and working at a sweatshop to make ends meet. This is one of those books that you read and you can't possibly imagine this being anyone's reality, and it makes you look at the world in a different way.
Crazy Rich Asians – Kevin Kwan
I technically read this book last year before the movie came out, but I loved it. It's one of those books you read that completely sweep you up in its world. I did not know just how rich a person could be–or perhaps I just couldn't imagine any one person having that much money–until I read this book. It was such an entertaining read and you couldn't help but keep on reading because every page had so much drama. I tore through this one and read its two sequels in record time.